PHILADELPHIA MAYOR MICHAEL A. NUTTER
Peace Day Philly focuses on the rights of all people to live in a peaceful world. For Philadelphia, it means building safer neighborhoods, better schools and stronger communities. I want to encourage every citizen to participate in Peace Day Philly in a way that is meaningful to them.​
Read the 2014 Mayoral Proclamation
ENOUGH PROJECT'S FOUNDER JOHN PRENDERGAST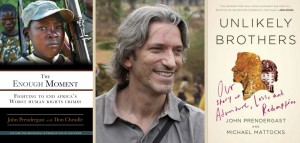 Peace Day Philly has reverberations around the world. It matters to the people in displaced camps in Darfur that Philadelphia residents care about their plight and want more to be done for peace. It matters to the survivors of the genocide in the former Yugoslavia that people from Philadelphia are standing up for sustainable peace. And it matters to disadvantaged neighborhoods in Philadelphia where violence is too much a part of young people's experience that Philly is trying to change that status quo. I'm proud to stand shoulder to shoulder with the people of Philadelphia in support of peace in our world and in our own neighborhoods. Learn more about the ENOUGH PROJECT.
Whereas conflict resolution and transformation, mediation, mindfulness training and many other skill-based aspects of peace education, as well as intercultural dialogue and other forms of diversity and global awareness activities, are critical to the development of peacecbuilding skills and global citizenship among children and youth…The Senate encourages and commends all residents of the Commonwealth who actively promote and participate in diverse peace, nonviolence and unity-building activities in observance of the International Day of Peace.
2015 State Senate Resolution
Audio with Senator Farnese about the Resolution
2014 State Senate Resolution
Senator Farnese's 2014 Press Release
State Senator Larry Farnese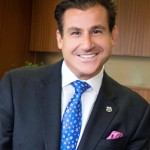 It's an honor to support International Day of Peace…I urge everyone to not only spread the word about Peace Day through social media and talking with friends and family, but to take an active stand for peace and make our city, commonwealth, and nation a more peaceful place for generations to come.
For a video of Senator Farnese's remarks at the Peace Day Philly LOVE Park event on 9/21/12, CLICK HERE
PHILADELPHIA POLICE DEPARTMENT/COMMISSIONER RAMSEY
The Philadelphia Police Department is an avid supporter of Peace Day Philly and the International Day of Peace. We encourage and promote peace within our city on a daily basis. O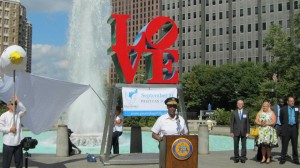 ur Department is committed to providing peace-related activities in districts throughout the city and continuing our efforts to build positive relationships with all communities within our city. Any opportunity we have to promote peace is an opportunity to promote a safer Philadelphia and a safer world.
PHILADELPHIA MOTHER OF TWO
My youngest brother was a victim of a senseless murder in the City of Philadelphia. He died 5 days before his 16th birthday. We cannot allow the multitude of senseless acts of violence to plague our communities. It's time to take action for our children, our mothers, our fathers and all residents across the city. Peace Day Philly provides a platform for our voices to be heard, for our children to have a day shared with children across the world in which they can be safe, express their visions of peace and celebrate peace.
Participating Organizations
Drexel University
Drexel's involvement with Peace Day Philly is in line with the University's mission of fostering the value of being a global citizen–someone who identifies with being part of an emerging world community and whose actions contribute to building the values of peace, diversity, and inclusion.
Welcoming Center for New Pennsylvanians
The Welcoming Center for New Pennsylvanians is delighted to be collaborating with Peace Day Philly. Our mission is to help immigrant newcomers and longtime Philadelphians to become socially and economically integrated. Events like Peace Day Philly are exactly the kind of inclusive, community-focused activities that can help build cross-cultural
Philadelphia Urban Creators
Developing Urban Gardens helps to foster a sense of self-sustainbility and cohesion within inner city communities, therefore inspiring peace and collaboration. Our farms and gardens have evolved into safe-spaces for community gathering, vision building, and healthy living, and have already had a major affect on the social and environmental fabric of our neighborhood. We look forward to you joining us in this effort to promote peace and well being in North Philadelphia.
Philadelphia Sinfonia
Our daily interactions with each other shape the world as we know it. We must and should learn to interact with each other in ways that show respect and appreciation for all. Peace Day Philly's message has such great appeal to our local, as well global communities. Our students want to help spread this universal and critically important message however we can. Music is often viewed as a "common language" we can all share and shared experiences have the power to bring us together and help us to get to know and respect each other.
PhillyRising Collaborative 
As part of our Peace Day participation, residents, nonprofits, Peace Day Philly, Global Citizen and city agencies came together to reflect on peace while painting a playground, beautifying a space for children and building picnic tables to create a space for families to convene…This project was a true example of collaboration, with many people coming together to work towards a singular goal. The residents of Hawthorne were thrilled with the amount of energy that was put into their beloved park and were excited to see the results.