Interfaith Walk for Peace & Reconciliation
Sunday, April 26, 2:00-5:30pm
This year's walk will include gatherings at AlAqsa Islamic Society (beginning at 2:00 pm), the Village of Arts and Humanity and West Kennsington Ministries.
Walk begins at 2:00pm at Al Aqsa Mosque, 1501 Germantown Ave, Philadelphia, PA 19122, then will stop at 3:30pm at The Village of Arts and Humanities – 2544 Germantown Avenue (19133)
3:30 pm. Ending location will be the West Kensington Ministry – 2140 North Hancock Street (19122) at around 4:40pm, with music, etc. and then sharing food together at that location around 5:30pm.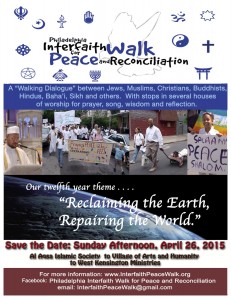 Download the UPDATED flyer HERE
Check out info from the 2014 walk – CLICK HERE
For further information, check www.interfaithpeacewalk.org
or e-mail InterfaithPeaceWalk@gmail.com