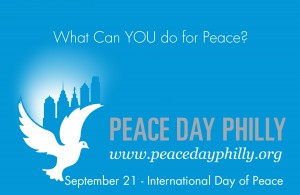 Join us for one or more of these PDP 2015 programs/activities – many of which are collaborations, in keeping with this year's global Peace Day theme: "Partnerships for Peace – Dignity for All." Most are FREE!  Please share with your networks!  Events listed are as of August 25 – Please click on name of activity to go to full listing. (Please note – when page says "previous" it will actually go to the next page, and vice versa.)
Monday, September 14 
11:15am – 12:45pm – Service Opportunity – Sunday Breakfast Rescue Mission, feed lunch to residents, center city. For more info and to register yourself/your group, email: contact@peacedayphilly.org.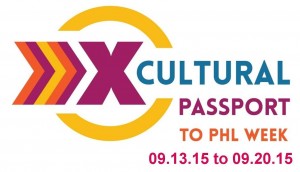 Tuesday, September 15
12:00pm -2:00pm: XCultural Performance. Venue: Love Park. Part of MOIMA's XCultural Passport.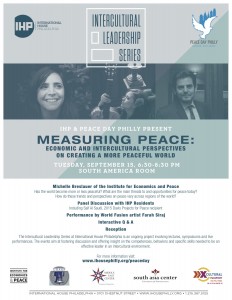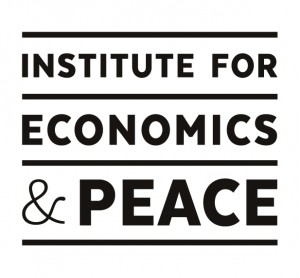 6:30-8:30pm: Measuring Peace: Economic & Intercultural Perspectives on Creating a More Peaceful World. Venue: International House Philadelphia, University City/Philly. Special guest speaker Michelle Breslauer, Institute for Economics and Peace, perspectives from IH residents including Saif Al Saudi with music from Farah Siraj. First of IH's "Intercultural Understanding & Leadership Series."  FREE, pls RSVP. FEATURED EVENT.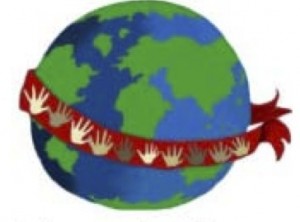 Wednesday, September 16 
7:30-9:00am:  CommUNITY Breakfast: Embracing the Difference and Undoing Racism One Conversation at a Time. Venue: Villanova University – $10 – must send in FORM w/ payment.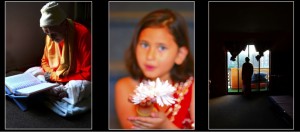 5:00pm – 7:00pm: Finding Our Place In the World: Through the Lens of the Immigrant and Refugee Experience. Includes photo essay of a Bhutanese refugee family. Venue: Arcadia University, Glenside PA. FREE. FEATURED EVENT.


Thursday, September 17
- 6:00pm – 8:00pm: Dialogue Across Difference: Skills for Peacemaking. Venue: Temple University – Tuttleman Learning Center. FREE, RSVP to the Dialogue Institute at info@dialogueinstitue.org.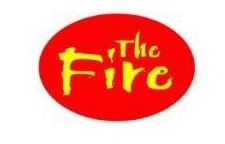 Friday, September 18
8:00pm: Philly Peace Fest – Beatles Tribute show. Venue. The Fire (bar/music venue in Northern Liberties). Multiple local bands performing Beatles songs. Ticketed. More info soon. 
Saturday September 19 
10am – 5pm: Building Bridges of Faith: Photographs of Papal Visits to the Holy Land. Venue: National Liberty Museum. TICKETED. Sept. 19-21, $2 off admission if you mention Peace Day Philly.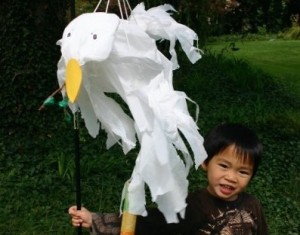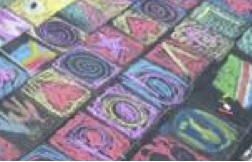 - 1:00-8:00pm: Philly Peace Fest – Venue: The Fire, Northern Liberties. OUTDOORS – Bands vendors, foods, peace crafts, Chalk4Peace – FREE.
- 8:00pm – Indoors, Four or more bands. TICKETED.
Sunday, September 20 
- 11:00am – 12:15pm: Peace, Poverty, and the Planet: EHS Platform. Venue: Ethical Humanist Society of Phila., center city. FREE.
- 11:00am – 12:30pm: Visioning a future that values and embraces ALL: Service featuring Audri Scott Williams. Venue: The Center of Peace and Spiritual Living. Elkins Park, PA.
- 12:00pm – 1:00pm: Peace, Social Justice and the Environment: Interconnections. Venue: Peace Monument Park, Camden, NJ. FREE.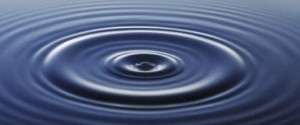 2:00pm – 4:30pm:  An Interfaith Peace Celebration &; Dialogue: Nurturing the Activist Within & Relationships Beyond. Venue: Ethical Humanist Society, center city. FREE. Pls RSVP. FEATURED EVENT.
4:00pm – 11:30pm: Philly Peace Fest.  Venue: The Fire, Northern Liberties.
    -4:00pm-  Afternoon all ages – TICKETED.
    -9:00pm – Night Adult show – TICKETED.
Monday, September 21 – UN International Day of Peace
- Parkway NW High School for Peace & Justice – Peace Day Philly
9:45 – 11:15am: March and Opening Remarks – ALL WELCOME!  Special Guest – Prof. basketball player & Philly native Wayne Ellington
- 11:45-2:00pm: Interactive workshops (some room for public available) Venues: Start: Mt. Airy Playground/End: Lutheran Theological Seminary

6:00pm -12 mid: Philly Peace Fest. Venue: The Fire, Northern Liberties.
   -6:00-9:00pm: Peace Day Happy Hour & Free Show
   -9:00-10:00pm: Special guest
   -10:00pm -12 mid: All-star Peace open Jam
6:15pm – 7:15pm: 5th Annual Sing Along for Peace. Venue: SW Corner of Rittenhouse Square – across from the Ethical Humanist Families welcome, includes Chalk4Peace! Followed by a short candlelight vigil.
ONGOING…
September 1-30 – We Went Looking for Home But We Found – Gryphon Café at Oxford Mills, 100 W. Oxford Street Philadelphia, PA 19122, 7am-5pm daily, Monday-Friday. Al-Bustan Seeds of Culture's bilingual multimedia exhibit.