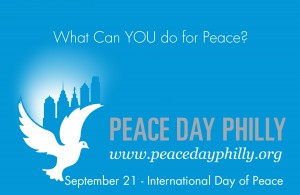 Schedule of Events As of August 1, 2014
More detailed information, as well as more events, coming soon!
Monday, Sept. 15 through Friday, Sept. 19
8am – 8pm - Free 30-minute mediation sessions (or conflict coaching sessions if needed) will be offered with appointment by the Good Shepherd Mediation Program. Germantown.
Wednesday, Sept. 17
7:30am – 9:00am – Undoing Racism Day CommUNITY Breakfast. Breakfast Keynote Speaker will be A. Hirotoshi "Hiro" Nishikawa, Ph.D. of Haverford, past president and current board member of the Japanese American Citizens League, Philadelphia Chapter. Villanova. ($10)
12noon – 4pm – Community Clean Up Day organized by Philadelphia Urban Creators with volunteers from Repair the World. 11th and York Sts., North Philadelphia.
7:00 – 9:00 pm – Film: "Groundswell Rising" - Directed by award-winning film-maker Renard Cohen, this film shows what we can do to stop the risk to our health, and our clean air and water, by a moratorium on "fracking" (hydraulic shale fracturing) in Pennsylvania for gas wells. Presented by Coalition for Peace Action, PA Peace Voter and others. Friends Center, Center City. More info, CLICK HERE.
Evening – New Lobby Opening Event, National Liberty Museum. Old City. (Ticketed event)
Thursday, Sept. 18
12:00 noon – No Drones In Philly Petition Signing, an effort of the Granny Peace Brigade Philadelphia. A giant Peace Poster will be created as well. Rittenhouse Square, center city.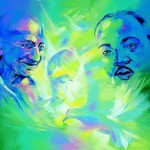 5:30 – 8:00pm – Changemakers Across Borders: Mahatma Gandhi, Dr. King, and the Unlikely Flow of Ideas – Collaborative program about transnational influences on peace movements, as well as how one small action can create great change. Will include Samip Mallick sharing stories from the SAADA archive about Gandhi/MLK connections and flow of ideas between United States, South Africa and India. Reverend David Brown of NewCORE will also be a featured speaker. Presented by SAADA and The Welcoming Center, with support from PDP. Location TBD.
Friday, Sept. 19
Throughout the Day and Evening – Philly Police for Peace – For the 3rd consecutive year, the Philadelphia Police Department will offer diverse peace related activities in community venues within Districts across the city.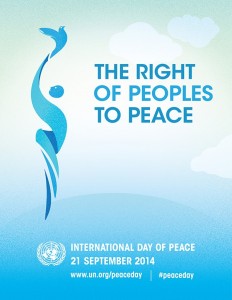 11:30am – 1:30pm (time tentative) Right To Peace Speaker Event offered as part of the Drexel Academic and Action Program. To include discussion about United Nations Universal Declaration of Human Rights and how the Right to Peace is defined. Participants will be invited to stay engaged and take action related to human rights. Offered by a collaboration of Drexel University's Office of International Programs and other Drexel Offices and Departments. University City.


Saturday, Sept. 20
All Day and Eve – Philadelphia United Jazz Festival, Presented by Life Line Music Coalition – 15th/16th and South Street, Philadelphia. More info: http://www.philaunitedjazzfestival.com.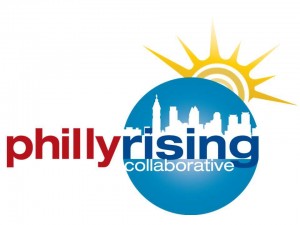 10am -3pm (approx) - Peace Day Community Project at Ridgeway Park. This community event will be a collaborative gathering of organizations, led by PhillyRising Collaborative, to support community residents in providing benches and tables for this park. Kids activities, food, etc. 13th & Carpenter Sts. – Lower South Philadelphia.
3:00pm - Interfaith Service to End Gun Violence. Organized by Heeding God's Call. Independence Mall, Center City.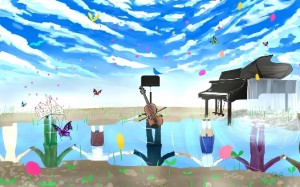 7:00pm – Celebrate Peace, Embrace Diversity Concert, presented by Harmony for Peace Foundation, Kimmel Center. Performers to include Intercultural Journeys members Udi Bar-David (cello); Hafez Javier Kotain, percussion and Hanna Khoury (violin) as well as the Philadelphia Boys Choir and Philadelphia Girls Choir and other special musical guests. Center City. ($25-$35) More info: http://harmonyforpeace.org/.
Sunday, September 21 (The U.N. International Day of Peace)
10am – 1:00pm – Peace Service and Event, Protestant Community Church of Medford Lakes. Faith service, speaker workshops, including Rev. Moore from Coalition for Peace Action, and free lunch. Medford Lakes, NJ.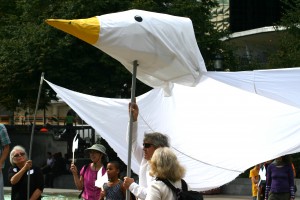 11am -12:30pm – Peace Day Philly 2014 Gathering, Independence Mall – to include observing the global minute of silence and a collaborative art activity. Proceeded by free meditation and yoga instruction (9:30am – 11am). Center City.
11am – 5:00pm – Peace Day Poetry Event presented by the University of Pennsylvania Museum. Special guests to include poet Sonia Sanchez and hip hop artists. West Philadelphia communities will be particularly involved in this special event, but all are welcome; child friendly. University City. (Free/Discounted admission)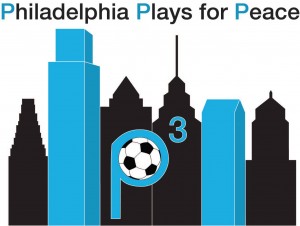 1:00pm – 4:00pm/5pm- P3: Philadelphia Plays for Peace – World Cup style final tournament to include activities for kids, health information and more. Presented by collaborative group of organizations including the UNA-GP and MOIMA. Edgeley Field, off of Kelly Drive in Fairmount Park. Plenty of parking and SEPTA accessible.
3:00 – 4:00pm – Brundibar and The Children of Theresienstadt. An original, minimalist version of a children's opera that tells the story of the children who gave 55 performances of the opera Brundibar in the Theresienstadt concentration camp during WWII. Presented by International Opera Theatre with support from Old Saint Joseph's Church. Free will offering. Old City.
4:00pm – 5:30pm - 2nd Annual Peace Day Concert presented by the Philadelphia Sinfonia and Keystone State Boychoir, First Presbyterian Church in Germantown. Will include selections by each group of fine young musicians as well as collaborative selections. Free will offering. Germantown.
6 – 7:00pm – 4th Annual Sing Along for Peace, South West Corner of Rittenhouse Square, hosted by the Ethical Society f Philadelphia. This annual community event will include classic folk songs of peace as well as more modern selections. Kids welcome, sidewalk chalk will be available for "Chalk 4 Peace." The sing along will close with a brief walk around Rittenhouse Square and circle gathering. Center city.
6:30-7:30pm – Meditation for World Peace – Brahma Kumaris Meditaiton Center, Cinnaminson, NJ.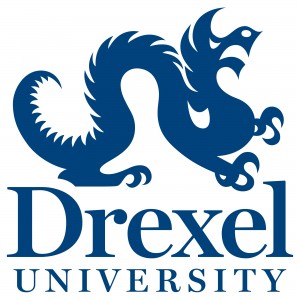 Special Peace Skills Training (closed to the Public):
Thursday, September 18 – Drexel University's Office of  Equality and Diversity (OED) will offer a 5 hour tailored training to staff and volunteers from Mothers In Charge.