PEACE DAY PHILLY 2012 – SEPTEMBER 21, 2012
Location: LOVE PARK, JFK Blvd. btwn 15th and 16th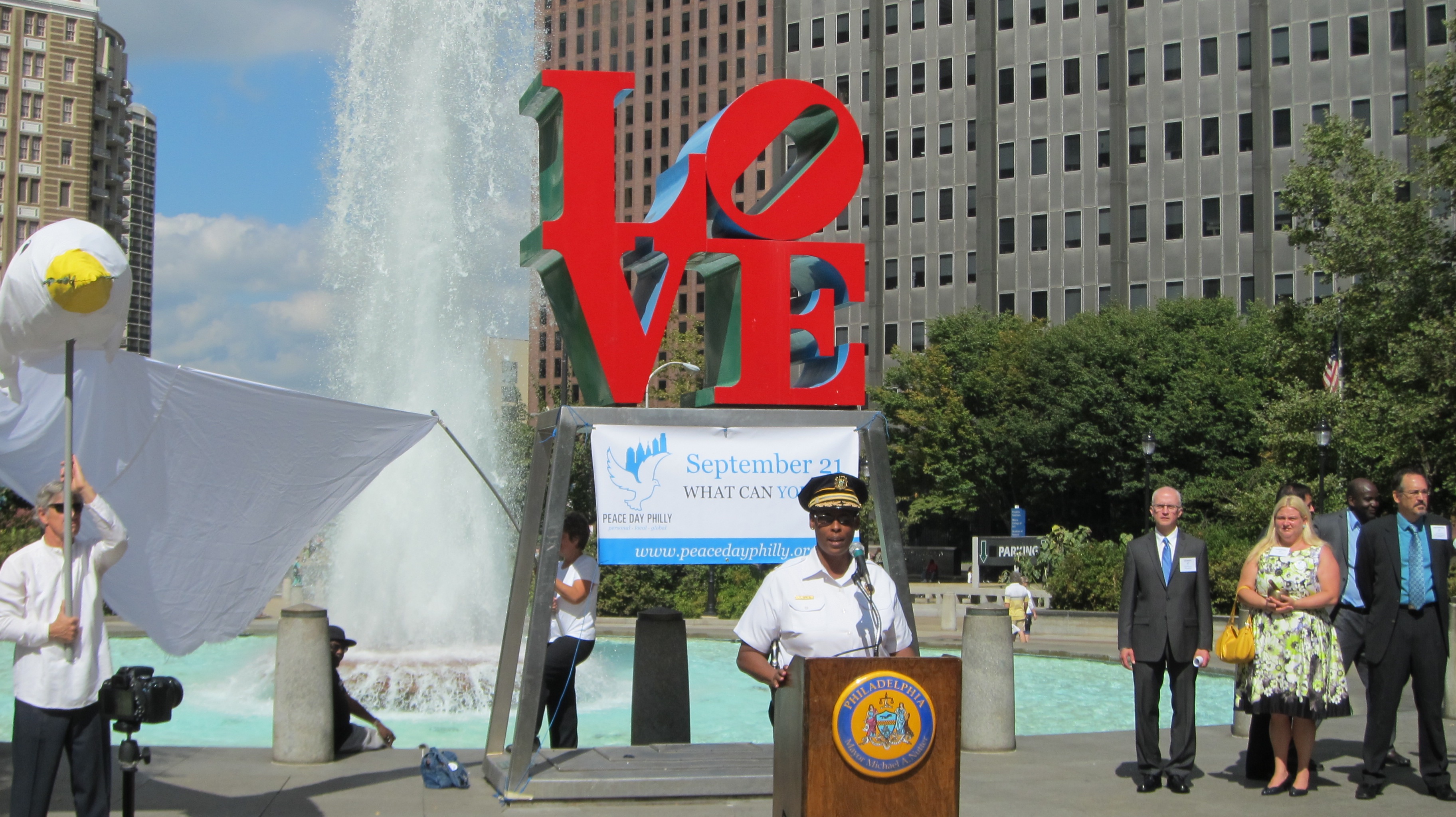 Sponsored by: Peace Day Philly
This public program to observe the International Day of Peace was just one of many diverse events offered by diverse organization across Philadelphia and the region as part of Peace Day Philly 2012! (see more information below)
Peace Day Philly's LOVE Park event included participation in the global minute of silence at noon, a worldwide activity that took place throughout the region and the world in all timezones that was endorsed by Mayors for Peace.
The following public figures joined us to share their perspectives about Peace Day and building a culture of peace in Philadelphia and beyond. Peace Day Philly was grateful for their participation, and for their ongoing commitment to forward peace and non violence across Philadelphia and the region.
- Mayor Mike Nutter
- Senator Larry Farnese of the 1st District
- Deputy Police Commissioner Charlotte Council
- Philadelphia's Poet Laureate Sonia Sanchez (Sister Sanchez is currently working with the Mural Arts Program on a Peace Haiku project)
…..Our giant peace dove in honor of Dr. Jane Goodall and this year's theme: "Sustainable Peace for a Sustainable Future" was also there!
FOR PHOTOS from this event, CLICK HERE
FOR VIDEO EXCERPTS of public figures who spoke at this event, go to the Peace Day Philly Facebook Page, click on "Albums" and then "videos," or CLICK HERE
For Mayor Nutter's written statement of support for active engagement in Peace Day Philly, CLICK HERE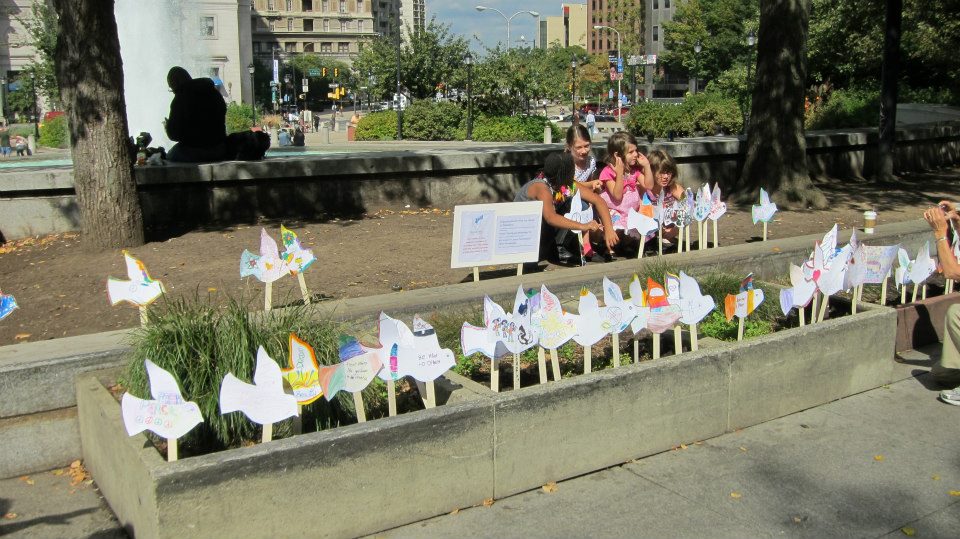 Over 30 diverse events were offered by diverse area organizations, and we applaud their efforts in finding ways to discuss, create and forward peace through programs and activities that were in keeping with their missions. Events included music concerts, meditation and faith activities, vigils against violence, educational talks related to the environment, costs of war and public education, sing alongs, films, community gatherings, an African immigrant soccer tournament and more. For a full list of Peace Day Philly 2013 participating organizations, including those that offered public events, CLICK HERE
The Philadelphia Police Department, for the 2nd year, also participated through offering over 20 diverse peace-related events in districts across the city. For more information, CLICK HERE
The Free Library of Philadelphia's LEAP After School Program, for the 2nd year, also facilitated dozens of peace poetry activities at sites across the city, and a number of city libraries offered additional activities for Peace Day. Numerous public and private schools also participated through a wide range of creative and educational activities. And, through the Starfinder Foundation, 21 soccer games the week of September 17th were proceeded by a Peace Pledge written by youth.
Representatives from the global organization Mayors for Peace were in Philadelphia on 9/21 and displayed "Stories of a Nuclear War."