Thursday, September 21 (the International Day of Peace) 11:40am – 12:15pm
Center of Rittenhouse Square, 18th and Walnut Streets, Philadelphia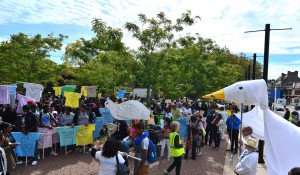 Join us for our Peace Day 2017 program!
We will have a short program including Peace Day messages from other parts of the world, poetry and music.
At 11:55am, we'll invite people to become still and begin focusing on their breathing (You are welcome to sit/stand in silence longer before and/or after the 12 noon minute.)
12 Noon:
We will ring the chime twice to signal that the global minute at 12 noon is beginning, and then again at the close of the minute. 

12:01-12:15:
The gathering will close with a call to action and music
This year's global Peace Day theme is "Together for Peace: Respect, Safety and Dignity for All." This theme focuses in particular on the plight of refugees and migrants throughout the world. UN Secretary-General António Guterres: "Our obligation as an international community is to ensure that everyone forced to flee their homes receives the protection to which they are entitled under international law. Our duty as a human family is to replace fear with kindness."
About the Global Minute of Silence at Noon:
Across the world on the UN International Day of Peace (Peace Day), people, organizations and groups pause at 12 noon for a minute of silence to connect across the planet in a spirit of peace (all time zones). This minute can be used to meditate, pray, envision or think about peace, or send compassion to those who live in war and conflict.
Join us in Philly or observe the moment wherever you are – in the Philly region or across the globe! 
For additional activity ideas for Peace Day 2017, go to: http://www.peacedayphilly.org/what-can-you-do/