Monday, September 21 (the UN International Day of Peace)
10:00am – 2:00pm
Approximate Times:
10:00am – 10:30am – Peace Walk – ALL WELCOME
10:30am – 11:00am Gathering – ALL WELCOME
11:00-11:30 Student Lunch
11:30 – 1:30 Student Workshops (some space available for others)
1:30pm – 2:00pm Final Gathering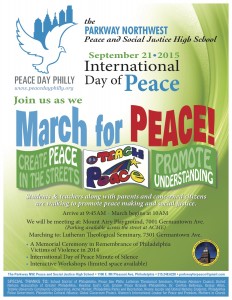 Locations: Beginning at Mount Airy Playground (7001 Germantown Avenue – 19119) and ending at the Lutheran Theological Seminary (7301 Germantown Ave -19119)
This featured collaborative event, spearheaded by the Parkway NW High School for Peace and Social Justice will include:
– A Peace Walk open to the public and including T-shirts with the names of Philadelphia victims of gun violence
– Skill-Building Workshops on a number of topics chosen by the students of Parkway NW. Workshops are primarily for students, but some spaces are available for the public to join.
Follow this event in Twitter: @ParkwayNWPeace
And learn more about/Invite people to this event HERE
Partnering Organizations: Parkway NW, Peace Day Philly, Global Education Motivators, Granny Peace Brigade, Sharon Katz and the Peace Train, Heeding God's Call, Women's International league for Peace and Freedom.