Sunday, September 21 (Peace Day)
9:30-11am; 11am – 12:01pm; 12:01 – 1pm
People's Plaza – South side of Market Between 5th & 6th St., Philadelphia
Join us as we connect with each other and people across the world for our Peace Day Philly 2014 gathering! Participate in all or any part of the activities as you wish.
9:30am -10:15am – Free vinyasa style yoga*
10:15am – 11:00am – Free Be The Peace Meditation**
11:00am – Peace Day Philly Program – will include global and local reflections on peace and healing, declaration on our Right To Peace, performance by Aschak and The Earth Day Kids, music and collaborative art activities.
12:00 noon – Minute of Silence for Peace (global activity in all time zones)
12:01pm – 1:00pm – Participatory Drum Circle – All welcome to join.***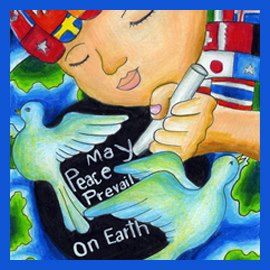 PLEASE JOIN WITH US AND THE WORLD COMMUNITY – SHARE WITH YOUR FRIENDS & NETWORKS!

For the Program Flier, CLICK HERE
To join the Facebook Event, CLICK HERE
* Peace Yoga offered by Elyse Venturella – In Vinyassa yoga, the assanas (postures) are linked together in a series of movements that are synchronized with the breath.
**Peace Meditation -"Be The Peace You Wish to See in the World" Mediation with Jeff Carreira – If we want to witness the source of violence in the world we only have to look inside. Our inner world is often a commotion of criticism, judgment, blame and insistence on having a problem. We do violence to ourselves in subtle ways everyday. There is a source of peace that always already exists even in chaos. To be the peace we see in the world we must rise above the violence we habitually do to ourselves. In this session Jeff Carreira will introduce a form of meditation called "The Practice of No Problem" that shows how we can become the peace we want to see in the world.
*** Drumming facilitated by Philadelphia Area Community Drum for Change. Bring your own drum and chair, if possible. For those who don't have a drum, the group will have extra instruments!Learn more about the inspiring and unifying improvisational form of a drum circle, CLICK HERE.