Thursday, September 21
12:15pm -12:45pm
Center of Rittenhouse Square, 18th and Walnut Streets
Peace manifests when the incessant inner chatter of the mind slows down. When you experience your inner being in silence, your emotional restlessness and nervousness start to dissipate. We invite you to join members of the Brahma Kumaris for a guided meditation.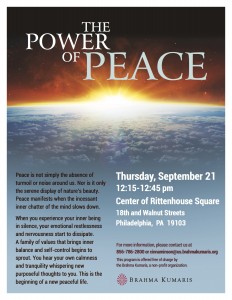 To download the flier, CLICK HERE
For more information, please contact us at 856-786-2800 or cinnaminso@us.brahmakumaris.org
About the Brahma Kumaris
Brahma Kumaris is a worldwide spiritual movement dedicated to personal transformation and world renewal. Founded in India in 1937, Brahma  Kumaris has spread to over 110 countries on all continents and has had an extensive impact in many sectors as an international NGO. However, their real commitment is to helping individuals transform their perspective of the world from material to spiritual. It supports the cultivation of a deep collective consciousness of peace and of the individual dignity of each soul.