"One of the most calming and powerful actions you can do to intervene in a stormy world is to stand up and show your soul."
- Clarissa Pinkola Estes
Art, music, dance, theater, creative writing, photography and film are engaging and powerful ways to express our thoughts, emotions and visions about peace. Art has the power to affect us deeply, whether we are in the role of creator or viewer, and to connect us to our common humanity. The arts give creative voice to our human experience and can connect us in ways dialogue sometimes cannot.
The arts can also explore themes of intercultural, interracial, interfaith and interpersonal tension and discord. Greater understanding and respect across races, religions and cultures is integral to peace, and arts activities that forward constructive dialogue can have impact far beyond one day.
For Peace Day activity ideas related to THE ARTS and other areas, go to the CHILDREN & YOUTH PAGE (many ideas can be adapted for adults!)
FEATURED VIDEO
Emmanuel Jal: "We Want Peace" Music Video

(For more about Jal, go to the MUSIC section of the page)
ART ACTIVITIES
GLOBAL PEACE CRANE PROJECT
Create and share peace cranes as a reminder that PEACE is our unifying goal!

Global Peace Crane Project
PEACE PALS INTERNATIONAL ART EXHIBITION – "May Peace Prevail on Earth"
This year's theme is the International Day of Peace!Submissions due JUNE 30, 2013!
THE PEACE FLAG PROJECT- Create Flags with images and messages of Peace!


Create and display PINWHEELS FOR PEACE!
Make and fly PEACE DOVES inspired by Dr. Jane Goodall and the Roots and Shoots Program!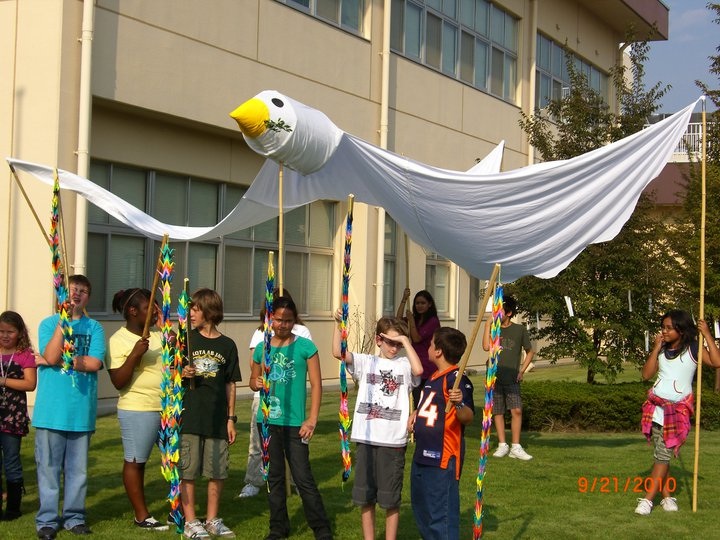 CHALK 4 PEACE is a fun way to build community and share images of peace! WATCH AN OVERVIEW VIDEO HERE
Works from the Global Youth UN 2012 Art for Peace Competition
Global Art Project for Peace
Peace One Day Art Exhibition Involving Youth and Adults from South Africa & the U.K.
PHOTOGRAPHY
To explore photography as a process of social consciousness, and ideas and themes for photography projects related to peace, visit the International Guild for Visual Peacemakers website. Watch IGVP's "Take the Journey" video HERE
POETRY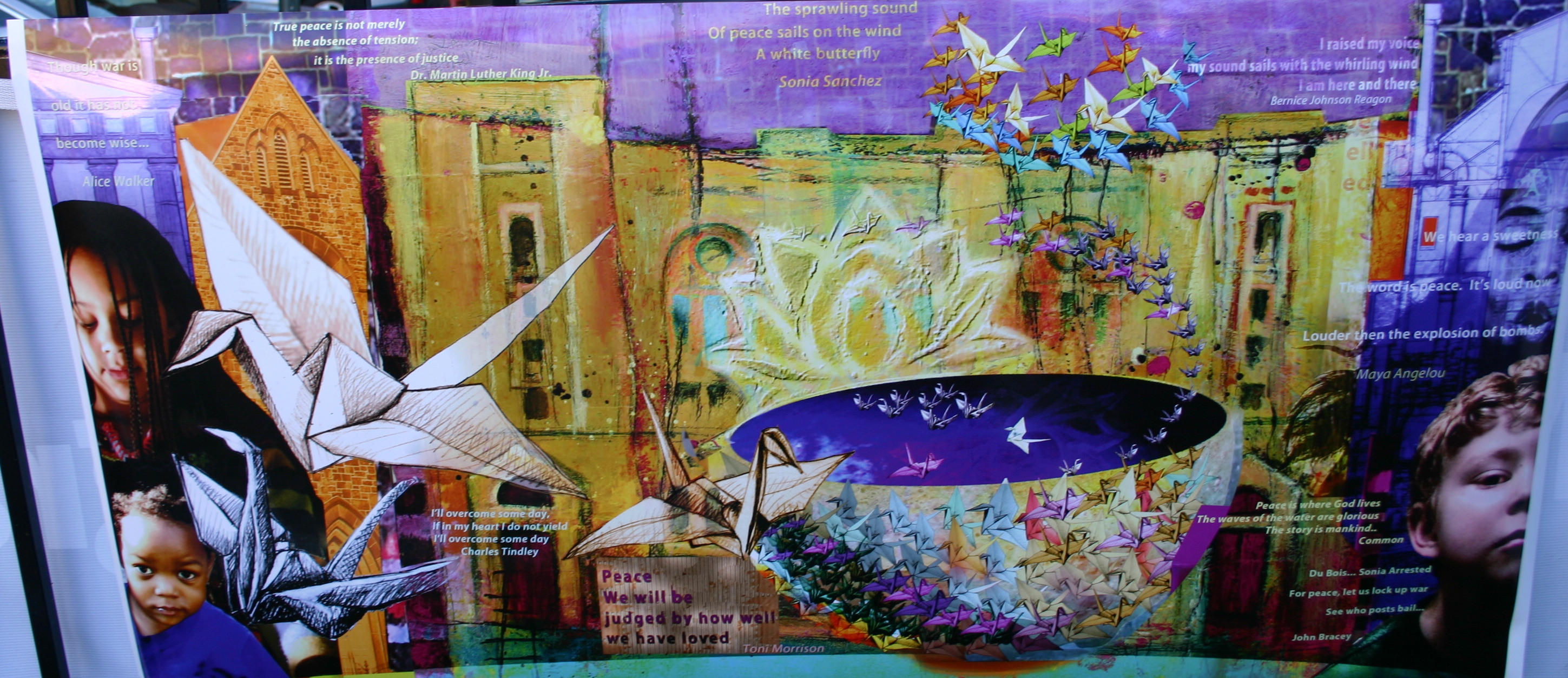 Peace is a Haiku Song Project, Philadelphia Mural Arts Program
Poet Laureate Sonia Sanchez is leading this inspired project with the city's Mural Arts Program, which will culminate in a Peace Mural dedication at Broad and Christian in Spring 2013.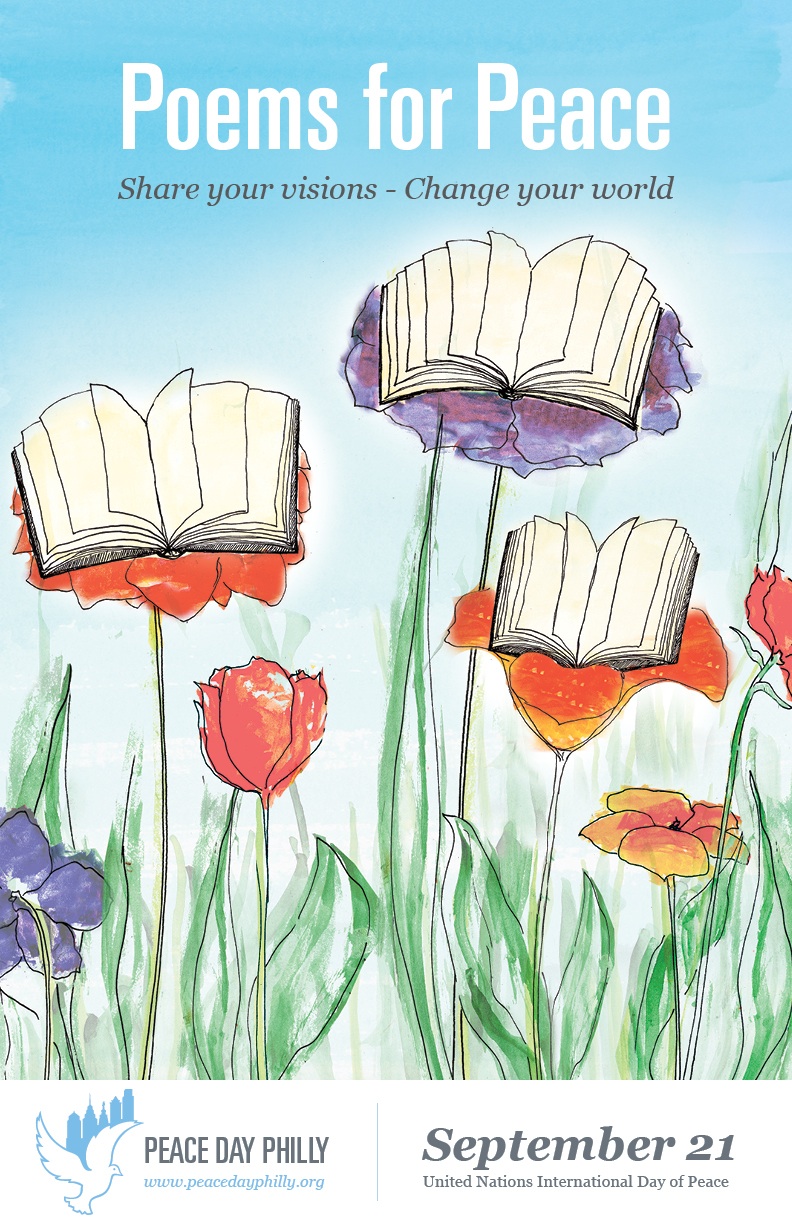 To request this image as a PDF for printing, posting and sharing, contact us: contact@peacedayphilly.org
MUSIC
SHARON KATZ is a South African musician and humanitarian who now resides in Philadelphia. After the fall of Apartheid, Ms. Katz brought together children from diverse cultural groups to form Sharon Katz & the Peace Train, a 500 person performing ensemble. Ms. Katz continues her humanitarian work in S. Africa, raising funds for schools, basic children's needs and HIV/AIDS treatment, as well as to support music workshops in Philadelphia schools.
For Sharon Katz & The Peace Train Overview, CLICK HERE
For news about the "Wehre Voices Meet" documentary celebrating the 20th anniversary of The Peace Train, CLICK HERE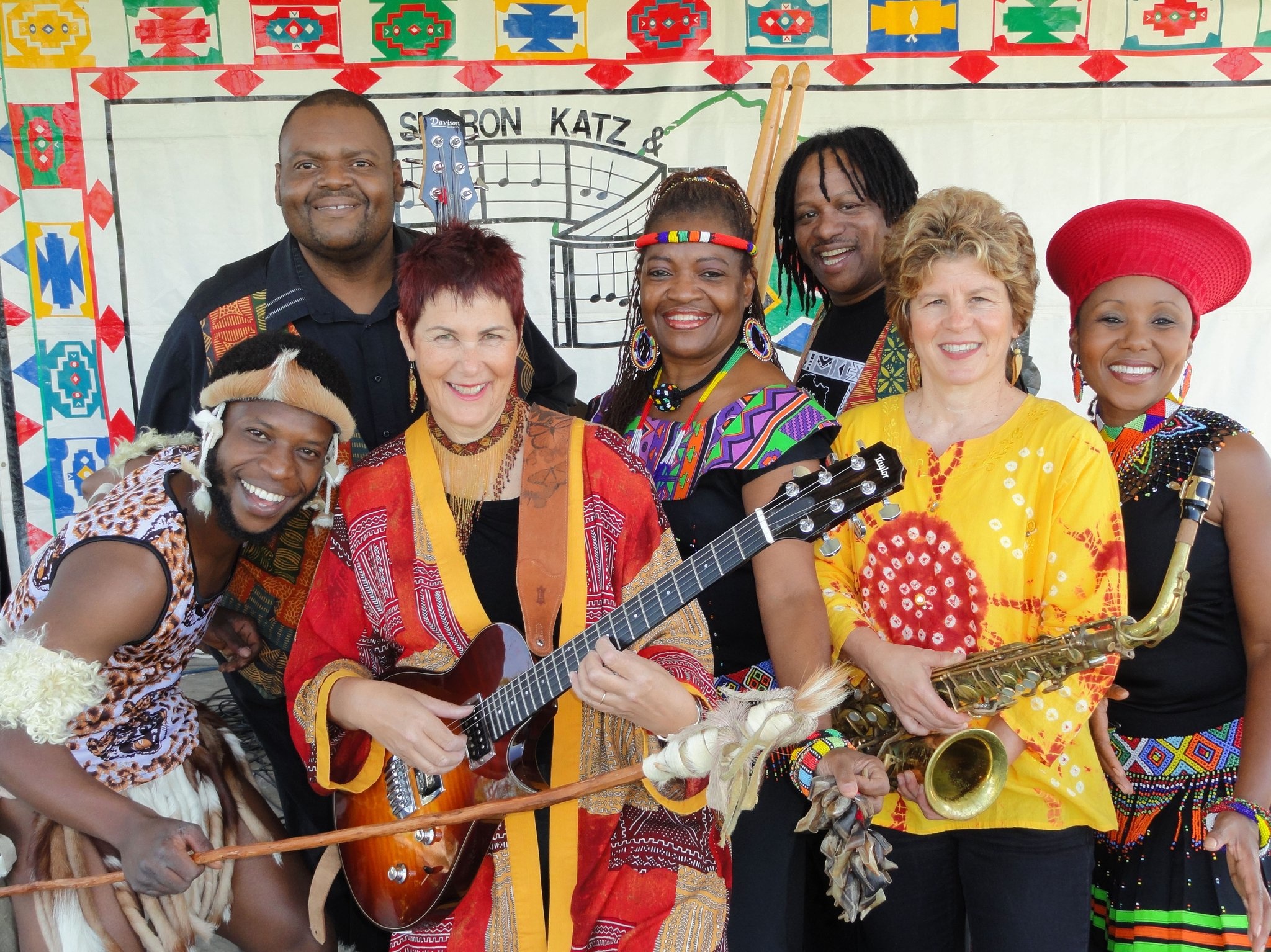 INTERCULTURAL JOURNEYS: BRIDGING CULTURAL DIVIDES THROUGH MUSIC
IJ promotes understanding in the pursuit of peace through intercultural music, dialogue, spoken word and dance. IJ hosts it's 2nd annual Peace Day Philly Concert on September 19th: CLICK HERE FOR DETAILS. For "Prayer for Peace" Performed by Udi Bar-David, Co-Founder of IJ and cellist with the Phila. Orchestra, CLICK HERE. For highlights of Intercultural Journeys work, CLICK HERE
EMMANUEL JAL is a South Sudanese music performer and former child soldier. Jal uses music to build peace in his home country and throughout the world. For Peace Day 2012, Jal will perform in Juba, S. Sudan in one of several events, part of his 2012 We Want Peace campaign. For more information, click here
2011 Common Ground Awardee Interview
PLAYING FOR CHANGE DAY – SEPTEMBER 21, 2013
Playing For Change Day is a creative day of action that uses the universal power of music to create positive social change. Musicians from all over the world perform on stages, street corners, schools, etc. to bring music into the lives of young people. The 1st PFC Day in Sept. 2011 inspired 225 events happening in 41 countries and raised funds for children's programs in Nepal and Africa. For a video overview of Playing for Change Day 2012, CLICK HERE
For more info on Playing for Change Day, CLICK HERE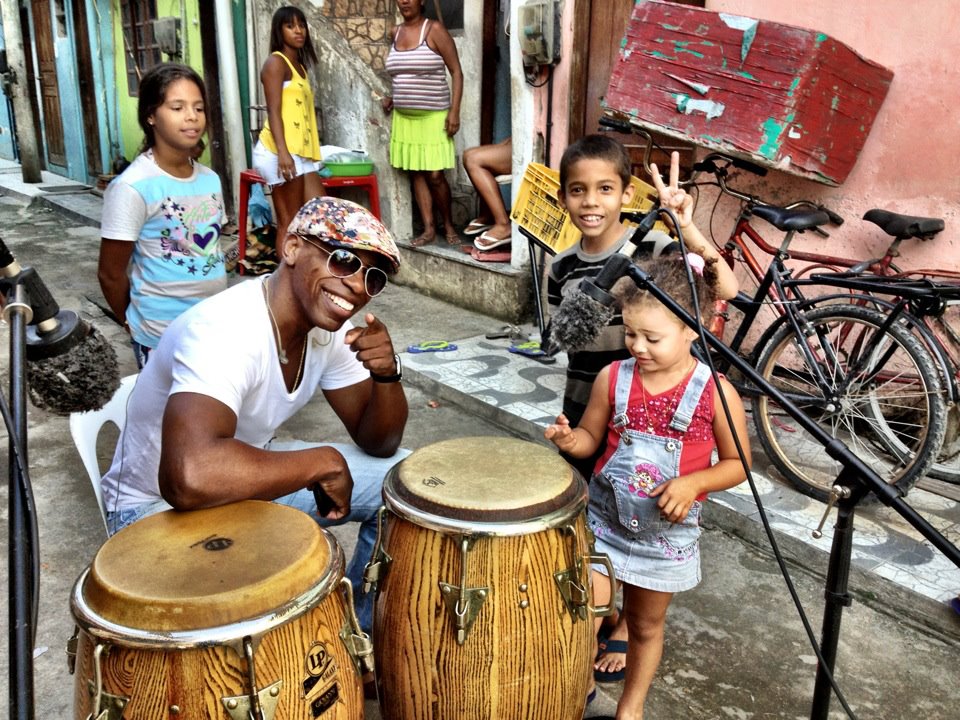 FILM
Annual Peace Film Festivals
Chicago IL
Orlando
"Catch a Dreamer"
"Catch a Dreamer" is a visually stunning 30-minute documentary composed around the UN declaration of the United Nations, the Ten Rights of the Child. The film dramatizes, through art and photography, the jeopardy under which these rights exist for millions of children. The premise of Catch a Dreamer is that all the world's children deserve and have the right to love, health, food, shelter, education. And peace. Available in DVD format to community and educational organizations. To learn more and watch the trailer, CLICK HERE for the New Earth Songs Website
Global Awareness In the Classroom: "RU-Water Is Life" Film

For more about this 20 minute film about access to water in S. Sudan and its impact on education for girls, including the trailer, CLICK HERE
This film can be screened for free thanks to the producers as part of Peace Day Philly 2013. Question and fact sheets for grades K-12 are available to help facilitate discussion. Please contact us at contact@peacedayphilly.org if you would like to show this movie in your classroom the week of September 16th.
Documentary, "Soldiers of Peace"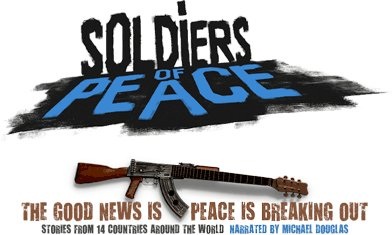 Narrated by U.N. Messenger of Peace Michael Douglas, this film that examines different ways individuals can address today's challenges through peaceful means, rather than through armed conflict.
To watch the trailer, CLICK HERE
To watch interview with Steve Killelea, Executive Producer about the film and Founder the Institute for Economics & Peace, CLICK HERE
Documentary, "The Day After Peace"
By Jeremy Gilley, founder of Peace One Day, tells Gilley's story of building support for a second UN Resolution giving Peace Day a fixed calendar date and specifying the day as one of global ceasefire. The film also documents Jeremy Gilley and Peace One Day Ambassador Jude Law traveling to Afghanistan and working with WHO and UNICEF to spearhead a massive polio vaccination campaign with the cooperation of the Taliban.
VIdeo Clip -"The Day After Peace" Premiere at Cannes Film Festival
The full film: "The Day After Peace"

Documentary, "Within the Eye of the Storm"
Bassam and Rami, a Palestinian and Israeli, were once dedicated fighters willing to kill and be killed by one another for the sake of their nations. Yet each one of them came face to face with the price of war when their daughters were killed in the conflict. Left with the excruciating pain of bereavement, they chose to do the unexpected. They set out on a joint journey to humanize the very enemy, which took the dearest thing from them and prevent the vicious cycle of retaliation in themselves and their societies. Sundance Institute Documentary Fund quote: "The film is a unique portrait of two men, whose conviction and friendship triumph in the face of personal sacrifice! It is a unique, beautiful story filled with love and hope."
For the trailer, CLICK HERE
For Sundance website with more information, CLICK HERE
LOCAL PEACE RELATED MUSEUMS / PROJECTS
The Envision Peace Museum
The National Liberty Museum
Philadelphia Folklore Project