Peace Day Philly is a registered 501 (c) (3) non-profit organization. 100% of donations are directed to Peace Day Philly's activities and programs.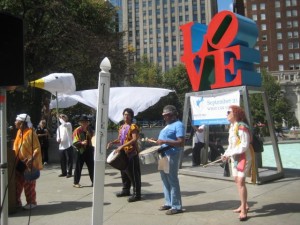 To give a tax deductible donation, please click on the Paypal "DONATE" button below. If you don't have a Paypal account, or prefer to give by credit card, just click on the credit card you would like to use. We greatly appreciate your support of our work!
"PENNIES FOR PEACE" CAMPAIGN – Have a jar of pennies hanging around? Why not take it to the bank and donate the value to Peace Day Philly? We appreciate every cent.
You can also make a difference by selecting Peace Day Philly as your AMAZON SMILE charity – they'll donate .05% of qualifying purchases.